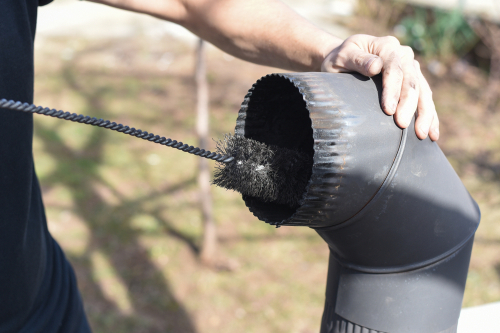 When's the last time you had your chimney or gas fireplace inspected and cleaned? The fire code requires that a chimney is cleaned and inspected every year. Chimney maintenance isn't something to skip! As a well-established chimney cleaning service in Palmer, AK, Alaska Fire and Flue LLC will make sure your fireplace and chimney are thoroughly inspected and properly cleaned and serviced.
Chimney Inspections
Do you know if your chimney is free of blockages and creosote buildups? The only way to truly be certain is through chimney inspections in Palmer, Wasilla, Homer, and Soldotna, AK. We offer three levels of service and inspection that offer insight into the complete nature of your chimney—from the presence of dangerous buildups to the integrity of the masonry.
Level I

Our basic chimney inspections are for new homes, to assure the quality of the build. This is the same type of inspection as our annual inspection for homeowners, where we take a close look at the masonry to pinpoint any cracking, shifting or water damage.

Level II

This level inspection is mandated for the sale of a property and involves a full cleaning before the chimney is inspected. The inspection is fully documented and the realtor is billed.

Level III

If an incident has occurred (e.g. fire), we perform a complete inspection of your chimney to assess the scope of damage, as well as any potential for hazards. This is an in-depth inspection utilizing cameras and may even include disassembly of parts to ensure quality and safety.
Chimney Cleaning Services
When creosote levels are too high in a chimney, the potential for a housefire increases. To make sure your fireplace is safe for regular use, we recommend chimney cleaning services annually. We'll go through and remove any buildups or anything solid in the flue, so smoke and ash can be properly vented and your fireplace can be used safely. We're fully qualified to perform cleaning in any capacity and take every job seriously, because we know how much the safety of your fireplace depends on its cleanliness.
Custom Hearths
In addition to chimney inspections and chimney cleaning services, we can also build and install custom hearths for stoves. Fire code requires a proper hearth installation to prevents fire on carpet or rugs. We have factory made options, but take pride in building custom tile, slate or rock hearths to match the interior of your home.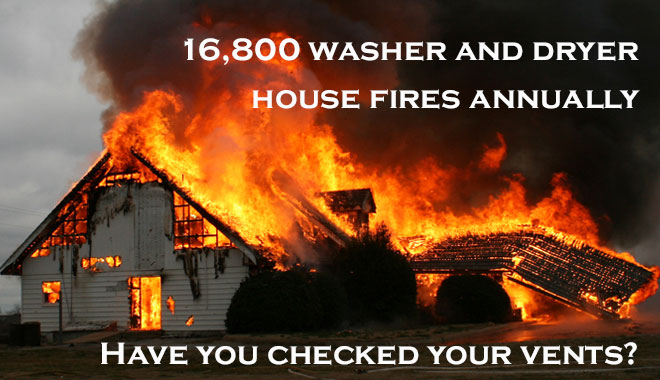 Dryer Vents
A dirty dryer vent can cause numerous problems including; decreased appliance efficiency, reduced life for your dryer, carbon monoxide pumped into your home, even fire and property damage. Our services significantly remove these risks associated with a dirty or blocked dryer vent. Call today for your dryer vent inspection and cleaning needs.
For more information about our capabilities or to schedule a chimney inspection or cleaning, please contact us today by calling 907-357-3583.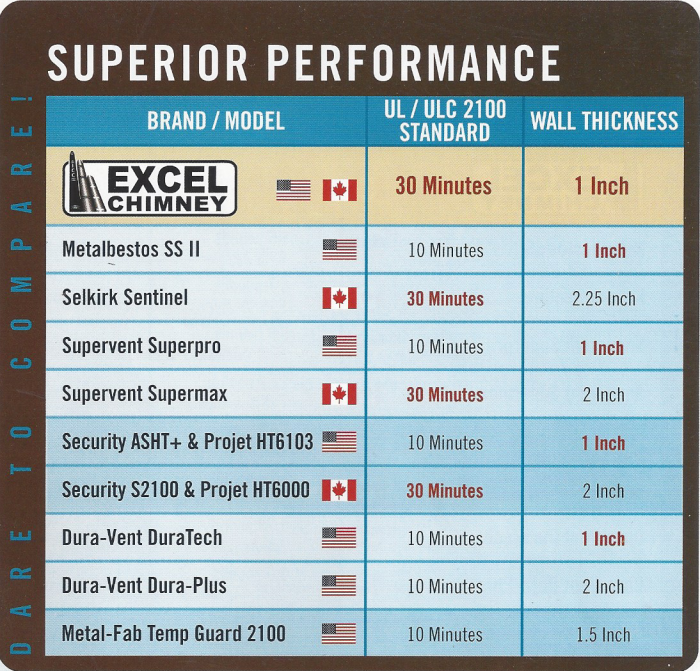 Brand / Model
Take a look at the list. Ask yourself, why do so few manufacturers make so many brands of venting? Metalbestos actually makes six different brands of chimney; only four are shown above for comparison. Security makes two brands it "clones" under the Security and Projet names. Dura Vent doesn't make a higher Canadian standard chimney, yet still makes two brands. When you want to sell everyone you have to change your name to protect the guilty.
Excel makes only one brand of chimney because we are interested in selling only specialty hearth retailers. Issues such as Superior Performance, Ease of Installation, and Durability are important to specialty hearth retailers. We don't sell a "cheaper" brand or "clone" a different name. We simply make the best quality product designed to meet the needs of specialty hearth dealers. That's the Excel difference.
UL / ULC 2100 Standard Wall Thickness
The Canadian wood stove standard (ULC) requires that a chimney pass a 30-minute chimney fire. The US standard (UL) only requires that a chimney pass a 10-minute chimney fire. Notice that the competitor's chimneys that pass the ULC standard all have 2″ wall thickness or greater.
Excel's revolutionary 1″ wall design outperforms every competitor in North America. Our Canadian competitors require twice the insulation thickness, and many of our US competitors can't even meet the easier UL 10-minute chimney fire standard with a 1″ wall design. US specialty hearth retailers sell Excel's 30-minute chimney fire advantage to their customers. Canadian retailers prefer the installation and warehouse advantages of a 1″ wall product.