Coal stoves are a cost-efficient way to heat your home, and coal technology has come a long way in the past two decades. Today, homeowners throughout Palmer, Wasilla, Homer, and Soldotna, AK turn to Alaska Fire and Flue LLC for the latest and greatest models of coal stoves, along with the experience needed to install and service them. Our mission is to bring warmth into your home, and we're the experts when it comes to coat heating.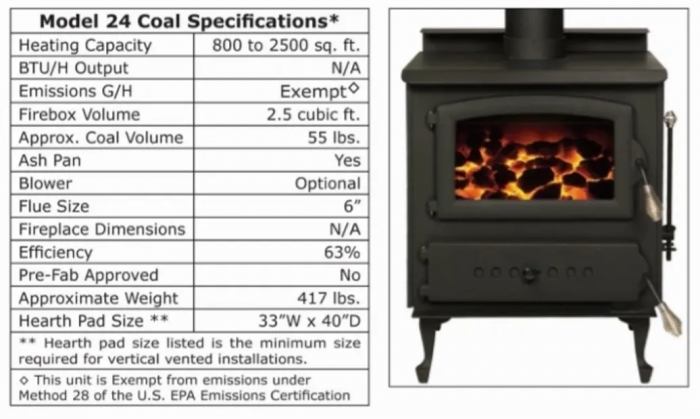 The Benefits of Coal Stoves
While natural gas and wood boilers may be more widespread, there's no discounting the advantages of coal heating! For homeowners who want better cost-efficiency and lasting performance from their stove, coal is the way to go. Here's a look at some of the biggest benefits to consider in a coal stove.
Coal is a very affordable heat source and one that's readily available
Coal stoves have a long-lasting burn time—as long as 18-24 hours per load
Coal stoves are clean-burning, especially when using anthracite coal
Fuel is easy to store and administer, without worry about contamination
Produces more heat per load than wood stoves and similar burning designs
We Sell AND Install!
Alaska Fire and Flue LLC is the only area stove dealer in Palmer, AK who both sells and installs coal stoves! Trust us to not only provide you with a state-of-the-art, highly-efficient coal stove, but to ensure it's set up properly as well. When you choose us, you're getting the benefit of a system that's ready to go, right out of the box—installed by professionals to ensure safety and reliability.
Enjoy Cost-Efficient Heat
Ready to explore the benefits of coal heating in your home? Alaska Fire and Flue LLC welcomes Palmer, AK customers! We'll introduce you to state-of-the-art coal stoves and help you find one that's right for your needs. Reach us today at 907-357-3583 to discuss your interest in coal stoves and to learn more about our products and services.