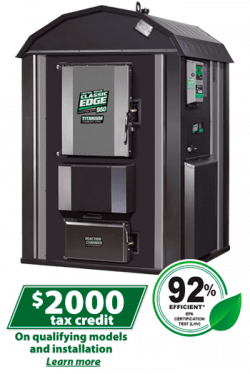 Looking for an eco-friendly, cost-efficient way to get the hot water you need in your home? Let Alaska Fire and Flue LLC introduce you to wood boiling heating systems that check all the boxes! Countless homeowners throughout Palmer, Wasilla, Homer, and Soldotna, AK already enjoy the many benefits of wood boilers, and we're ready to help you discover these benefits for yourself! With a huge selection of top-of-the-line products, it's easy to find an option that's right for you.
The Advantages of Wood Boilers
Central Wood Boilers are a great investment for Palmer, AK to Wasilla and South Central Alaska homes that are off the grid, moving to renewables or simply looking to cut costs. These boilers are a tried and true way to get hot water on demand, and come with many advantages that make them a great investment now and for the future.
Because wood boilers are installed outside, they're considered very safe
Wood burns clean, giving you an eco-friendly water heating solution
Outdoor wood boilers are typically more affordable than indoor tank heaters
Wood is much more affordable than electricity, for cost-efficient heating
Wood boilers offer better heat control than other types of water haters
We Sell AND Install!
Why buy from Alaska Fire and Flue LLC? Because we're an all-in-one solution for wood boilers! Not only do we sell top-of-the-line units that are trusted and proven, we also install everything we sell. You'll get a wood boiler that's ready to go right out of the box, installed and calibrated by professionals. Expect it to work properly and safely as soon as it's installed.
Hot Water, On Demand
No one else knows wood boilers like Alaska Fire and Flue LLC. Come check out the great selection of wood-burning products (including stoves and inserts) we offer and talk to our knowledgeable staff about any questions you might have. Reach us today at 907-357-3583 and bring home a boiler solution that gives you hot water, on demand.