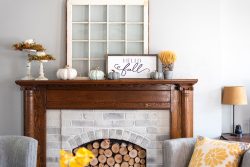 Fireplaces are often the focal point of a living room or any space they are in. They provide warmth, ambiance, and a cozy atmosphere. However, over time, the mantel surrounding the fireplace may become outdated or worn, taking away from the overall aesthetics of the room. In this blog post, we will explore how you can give your fireplace a facelift by installing a new mantel. With various styles and materials to choose from, a new mantel can transform your fireplace and breathe new life into your space.
1. Selecting the Right Mantel:
The first step in the fireplace facelift process is choosing the right mantel for your space. Consider the style of your home and the existing decor in the room. Do you prefer a traditional, rustic, or modern look? Mantels come in a variety of materials, such as wood, stone, or cast iron. Each material has its own unique characteristics and can dramatically change the overall appearance of your fireplace. Take your time to explore different options and envision how they will complement your space.
2. Removing the Existing Mantel:
Before installing a new mantel, you will need to remove the existing one. Carefully inspect the fireplace to ensure it is structurally sound and does not have any damage. Use appropriate tools and follow safety precautions when removing the mantel. It is advisable to seek professional help if you are unsure or uncomfortable with this step. Once the old mantel is removed, clean the area thoroughly to prepare it for the installation of the new mantel.
3. Installing the New Mantel:
The installation process will vary depending on the type of mantel you have chosen. If you opt for a wooden mantel, measure the space and cut the mantel to fit. Attach the mantel securely to the wall using appropriate mounting hardware. If your chosen material is stone or cast iron, you may need additional assistance or professional installation due to the weight and complexity involved. Carefully follow the manufacturer's instructions or seek professional help to ensure a safe and secure installation.
4. Enhancing the Mantel:
Once the new mantel is installed, you can enhance its appearance through various decorative elements. Consider adding a mirror or artwork above the mantel to create a focal point. Decorate the mantel with candles, photographs, or vases to personalize the space. Additionally, you can incorporate elements such as a mantel shelf or corbels to further enhance the aesthetics and functionality of the fireplace. These decorative touches can bring the mantel to life and amplify the overall visual appeal of your fireplace.
5. Maintaining and Caring for Your New Mantel:
To keep your mantel looking its best, it is important to maintain and care for it regularly. Different materials may require different cleaning methods, so be sure to follow the manufacturer's guidelines. Protect the mantel from excessive heat and direct flames by using a fireplace screen or grate. Regularly dust and clean the mantel to maintain its appearance. With proper care, your new mantel will continue to enhance your fireplace's beauty for years to come.
Conclusion:
Updating your fireplace with a new mantel can revitalize your living space and add a touch of elegance and charm. By selecting the right mantel to suit your style and installing it properly, you can transform your fireplace into a stunning focal point. Enhance the mantel's appearance with decorative elements and personalize it with your own unique touches. Remember to regularly maintain and care for your new mantel to ensure it remains beautiful and functional. With a fireplace facelift through a new mantel, you can create a warm and inviting atmosphere that will be the centerpiece of your home for years to come.
Got Questions? Let Us Help!
Alaska Fire and Flue LLC has been serving Eagle River and the Mat-Su Borough since 2005 and recently opened a 2000 sq ft showroom at 6445 Blue Lupine Dr in Palmer. We are your full-service dealer for wood stoves, fireplaces, chimney, and all the accessories to keep you burning wood all winter. At Alaska Fire and Flue LLC, we carry a diverse range of stoves to meet your heating needs. Come into our showroom and view our gas, pellet, Toyo, oil, and wood burning stoves. We are committed to providing top of the line service and repair for any type and style of stove, chimney, and fireplace. Contact us today for your new heating system or just to ask any technical questions that you may have!
Categorised in: Fireplace